Meeting Times: 
In-Person Services 9:30 AM & 11 AM – Sign Up Here 
 ONLINE Services 9:30AM & TRC Kids Stream AT 8:30AM 
Approximately 60 minutes
3321 Neuse Boulevard, New Bern, NC 28562
Welcome to TRC!
We are so glad you are joining us. Why do we say we are a church for EVERYONE? Because we don't care where you have been or where you are in your journey of faith. You are welcome here. We get that new churches can be uncomfortable. We'd like to help with that. Now that you are here, let's take a look around.
Since COVID19
Here is what you can expect right now as we begin in-person worship and services on our campus. If you have kids, please feel free to bring a device and headphones with you. During our Family Worship Gatherings kids are encouraged to watch our TRC Kids Stream. If you are visiting for the first time and have additional questions, our Connections Coordinator Ashley will be happy to help you with your visit. Here is some helpful information: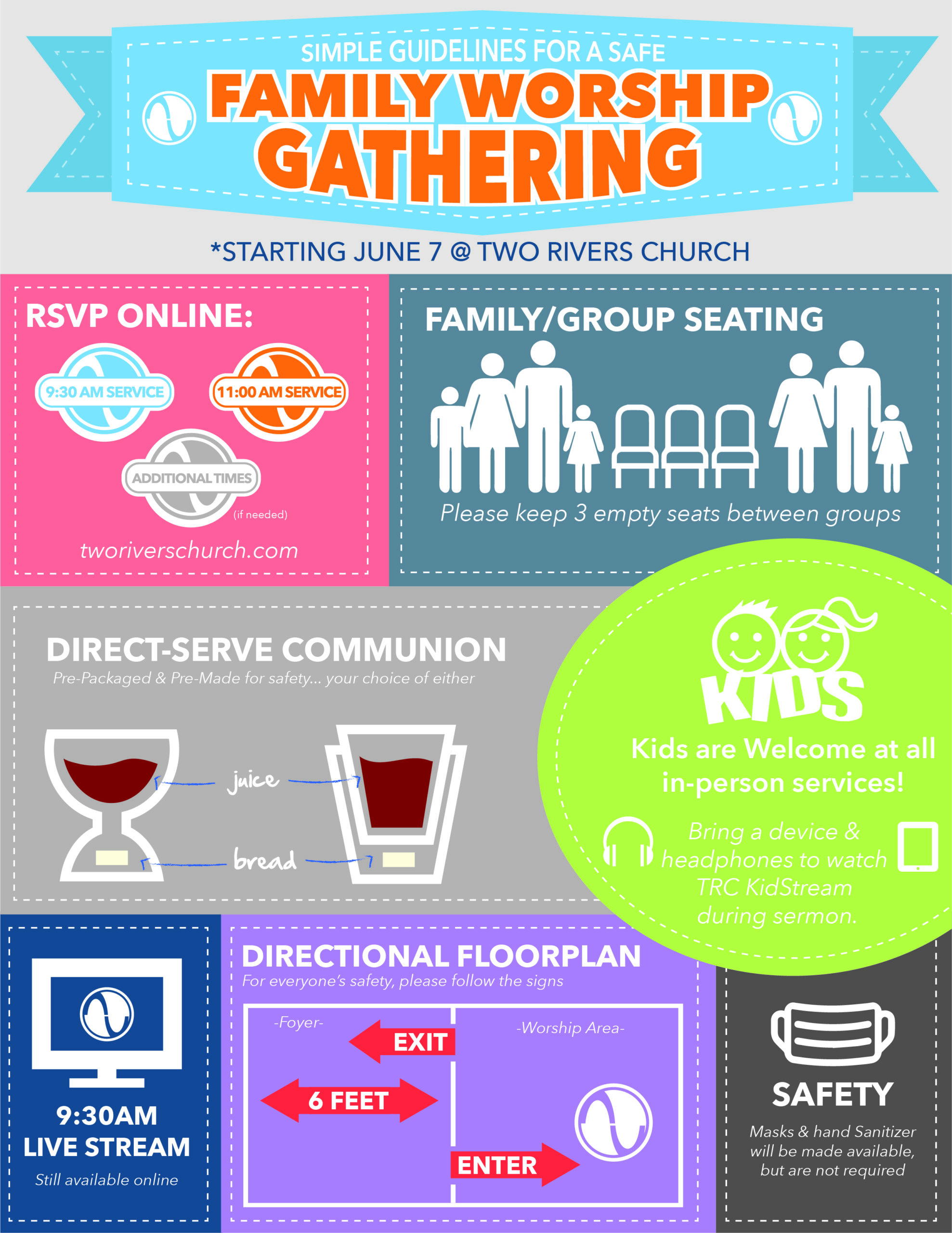 When you arrive
We have on site parking in our newly finished and expanded parking lot. If you need assistance, there are several accessible spots at the front of our building. You will always be met by our welcome team, if you have questions, they are happy to point you in the right direction. Just inside the door is our coffee bar. Stop by grab a cup or a snack and mingle a bit. Feeling more private? We respect that too. Our atmosphere and dress are relaxed and casual.  At the back of the lobby is our Kids Counter for families to get signed in to our TRC Kids nursery and classes.
We begin with family worship time
After a couple of songs by our praise team, led by our Associate Minister Greg Coverdale, we take a 5 minute break, to let families get kids checked into classes (Want to keep your kids with you? No problem. Happy sounds don't bother us), get a refill on your coffee or just chat a little. We begin with another song followed by a relevant, scripture based message and teaching by our Lead Minister, David McCants. We conclude each service by inviting everyone, although not required, to join in communion and a time of individual prayer and reflection. During this time, our lead minister and prayer team members are available to pray with you privately if you need additional encouragement. 
Afterwards
Stop by our Welcome Table and meet one of our Hospitality Team members. They would love to answer any questions you have or help you get started on your next steps.  We also have a free gift for our first time visitors.